Jianhe Bridge, West Binhai Road, Yantai
---
The West Binhai Road and Jianhe Bridge project starts from the east end of Haibin road of development zone in the west, passes the Jiahe Bridge erected to the Binhai Sightseeing Avenue on the east side of sewage treatment plant in the east, with a total length of about 6.9295 kilometers. …
Jianhe Bridge, West Binhai Road, Yantai
---
Contract letting unit: (CRTB) Tycoon Industrial Development Co., Ltd.
Steel box girder site assembly, installation and erection
The West Binhai Road and Jianhe Bridge project starts from the east end of Haibin road of development zone in the west, passes the Jiahe Bridge erected to the Binhai Sightseeing Avenue on the east side of sewage treatment plant in the east, with a total length of about 6.9295 kilometers. Jiahe Bridge and the connecting road at both ends have a length of 1,600 meters (including about 1300 m Jiahe Bridge). The main bridge adopts a single-tower self-anchored suspension bridge with double cable plane semi-floating system. The red line area of the bridge is 25 meters in width, and pile group foundation and vase piers are adopted.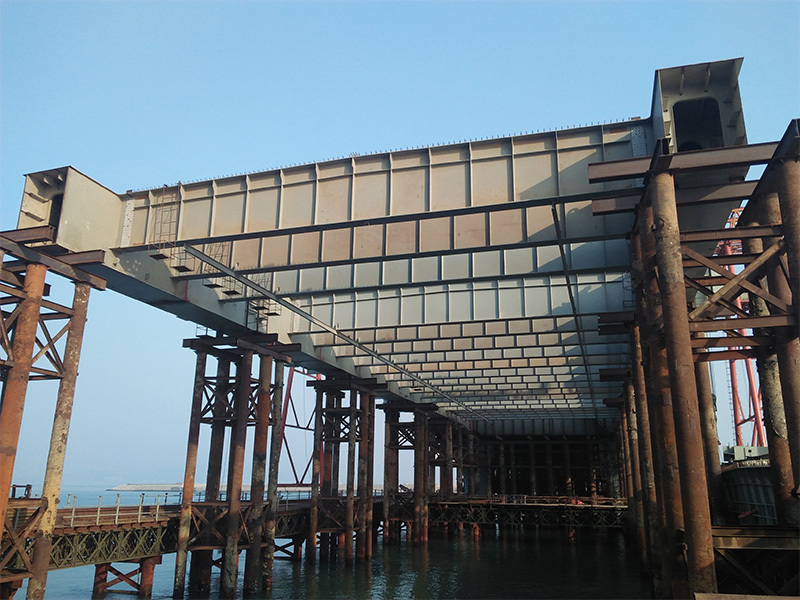 Guanting Reservoir Bridge