Jinan Industrial North Road Rapid Construction Project
---
Contracting unit: Jiangsu Zhongtie Shanqiao Heavy Industry Co., Ltd. Opening and completion time: 2016.11-2017.4
Jinan Industrial North Road Rapid Construction Project
Jinan Industrial North Road Rapid Construction Project
---
Contracting unit: Jiangsu Zhongtie Shanqiao Heavy Industry Co., Ltd.
Opening and completion time: 2016.11-2017.4
Construction content: steel box beam processing, on-site installation, spray transportation
Project Overview: The second and third sections of the rapid construction project of Jinan Industrial North Road construction are in the form of steel-truss composite beam structures across the rail transit platform and large intersections. A total of 9 steel box girder bridges were set up in special sections, including the longest single span of 60 meters, the longest record of Jinan Viaduct, and the construction of Jinan Industrial North Road, which accelerated the formation of Jinan "six vertical and four horizontal" rapid road network system.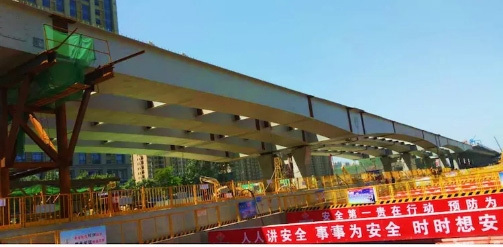 Meizhou-tidal railway Jialiite Bridge, across the Xiamen-Shenzhen Railway Bridge